Wow, what an ART show… Janelle Hessig's Carnal Comics
Opening night for Janelle Hessig's "Carnal Comics" show at 1-2-3-4 Go! Records in Oakland, CA, 7/21/11. Reviewed by contributor Anna Brown…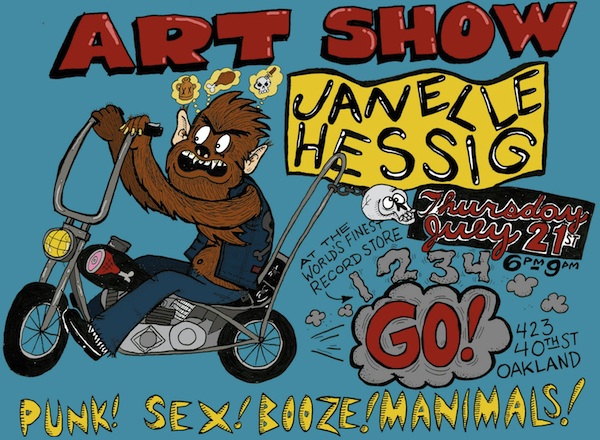 Janelle Hessig's art show was everything fans could hope for and more. The beloved talent behind Tales of Blarg did not disappoint. Young punks get ready to grope each other by the river, a leather clad werewolf rides a Harley down the highway, girls eat pizza wearing just their panties, and we are treated to a detailed map of Middle Earth's sex trade, where Golem is a butt boy, the orcs will beat you senseless, and the elves will fuck your mind.
Every detail was beautifully rendered in gouache and framed on the walls of Oakland's finest record store, 1-2-3-4 Go! as part of its anniversary gala, which included shows and a record swap. A personal favorite, "Werewolf Bait," has a lonely teen waiting up in her bedroom late at night, bedecked in sausages and sitting on a bloody steak, hoping to attract her werewolf crush. Check out this show while it's still up. Janelle's art is a treasure of the scene. It's sexy, subversive, smart, and hella funny.
Word on the streets is prints will be available sometime soon.