Create to Destroy! Mike Warm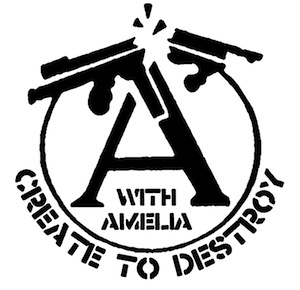 I know Mike Warm from booking DEFECT DEFECT (RIP) when they played NYC a few years back and a shared community with mutual friends. I was obsessed with his food stand, Grilled by Death, at the old Blackwater Records location in Portland, OR. It was the best — I think my favorite offering involved almond butter and agave? I ate a lot of Grilled by Death when given the opportunity. I have not gotten the pleasure of eating Mike's falafel yet, but I will be hitting up his Falafel House food truck next trip to PDX. Here is Mike Napkin on "striving to survive causing least suffering possible" to animals while feeding the punks and many more lucky persons.
Where are you from and what was your first punk show?
I'm from the suburbs of San Diego, and my first punk show was all local bands: EVERREADY and CARTER PEACE MISSION at an all-ages space in Poway called Hangar 18. JON COUGAR CONCENTRATION CAMP were on the bill but canceled because the singer got his tongue pierced and couldn't sing.
What a wimp! So, what bands have you been in? Bet you never dropped off a bill after getting your tongue pierced…
I played drums in the MINDS, the OBSERVERS, LAND ACTION, BLOODBATH AND BEYOND, ARCTIC FLOWERS and DEFECT DEFECT. There have been others but the ones I listed made records. My first band was called NAPKIN which I started with some friends at age 11, but we were together (learning our instruments) for seven years so the name Mike Napkin has stuck in some circles. I am not in an active band these days, but I've been talking with friends about getting something else started.
I always wondered why you were called Mike "Napkin." So, how'd you start feeding punks?
I guess I got started feeding punks as a regular thing when I started Grilled By Death at the old Blackwater Records. I'd always like to cook and talked for years about opening some kind of food-selling operation in Portland. I was inspired by street vendors like the tamale lady who always shows up selling delicious and cheap tamales when you don't realize you're hungry, and by punks around the world I saw doing a similar thing at shows. Whether a box of homemade tamales or premade sandwiches on the merch table, or elaborate meals from huge squat kitchens in Europe, I always got stoked when I saw someone slinging food at punk shows and I wanted to follow suit.
Tell us about Grilled by Death…did you only do it at the old Blackwater Records location?
When I learned that Keith was opening an all-ages show space in Portland I told him about my idea to sell food at shows. He was into it, so we set up a little sandwich stand in one corner of the place with a couple cheap panini presses and a mini fridge. Being a fermented foods nut I made my own sauerkraut for a veggie Reuben, and since I was teaching myself to bake bread at the time, I endeavored to make all the bread from scratch. I learned a couple hard lessons doing that, and burned myself out a bit. But I had a small crew of willing volunteers who picked up some of my slack and kept us serving as often as possible until the building sold and the space moved. By the time the second Blackwater location was taking shape I had started making other plans.
Is everything you make vegan? Are you vegan?
I'm not vegan, nor even strictly vegetarian to be honest, though do I eat that way the majority of the time. I make a conscious effort to minimize the cruel or harmful practices I'm supporting when I buy food, but to me that doesn't always mean abstaining from ingesting any and all animal products. But since the impact of my own personal eating choices make a much smaller impact than the choices I make as a business owner, I am committed to serving a vegetarian menu. Grilled By Death was veggie and Falafel House at Slabtown was entirely vegan.
I'm glad you have a conscience and are making the efforts you do without having to label or restrict yourself. I commend you, Mike! Why do you think vegetarianism and veganism important in punk?
Punk to me is about creating the world you want to live in, in defiance of our fucked up greater culture and its norms. And the world I want to live in is one where humans aren't the only lives deemed valuable, and where kindness prevails over cruelty. Strive To Survive Causing Least Suffering Possible, y'know? I know punk isn't the same for everyone, but for those who feel similarly, the tenets of veganism are an awesome introduction to the ills of the common western civilized diet, and the many creative and delicious ways a person might avoid them.
What happened to Falafel House? What's Slabtown?
Falafel House at Slabtown was a step up from slinging paninis in the corner of a punk space. This time I subleased the kitchen of a local punk bar called Slabtown and ran a legitimate, licensed operation serving scratch-made vegetarian Middle Eastern food. We were open seven days a week and I had an awesome staff of three or four people who helped me retain some degree of sanity. People largely seemed to enjoy the food and we received an uplifting amount of praise for what we were doing, especially as the business gained steam and we got better at it. Sadly, Slabtown closed its doors in November 2014 and Falafel House is on hiatus while I put together plans for the next step.
Where do you think your next location will be?
I'm going to open a Falafel House food cart, most likely in one of two potential locations in North Portland. I don't want to say more until the details are sorted, but I'm excited about either option.
How'd you go from just having a George Foreman grill to a restaurant?
Baby steps. I still have a hard time defining myself as a restaurant owner because I think that title implies a job bigger than the one I've yet taken on. I was very lucky to start my business in arrangement with an existing bar because it reduced the necessary investment to a manageable amount of time and resources. I couldn't have opened a restaurant from the ground up when I started Falafel House. Don't get me wrong, I busted my ass, but I had training wheels.
Did you do it alone?
Definitely not, I've had a lot of help, from people who gave me chances like Keith at Blackwater, and Doug the owner of Slabtown, all of the bartenders there, friends who helped pick up my slack at Grilled By Death, the rad staff at Falafel House, my awesome partner Kari, and all of my friends who've helped in lots of big and small ways.
How has the punk and vegan community in PDX supported you?
I've been lucky in the support I've received from punks and vegans in this city. I had complete strangers from the vegan community step up to organize events that brought me great business on otherwise slow nights at Slabtown. A huge amount of our business was generated by word of mouth, thanks to people spreading the word about what we were doing. Some of the best support I've received has come in the form of well-timed compliments. Just when I'm daydreaming about quitting to start five new bands and go on tour for the rest of my life, someone will tell me "dude I had your food at Slabtown last week and it was awesome," and I'm completely reinvigorated.
Are you friends with Eiji from DSB who does Vespera's Falafel in Tokyo? If not, you should be!
I'm not, but if I'm lucky enough to visit Japan again I absolutely intend to stop by his shop and I hope to connect with him.
He's the best! I think what both of you are doing is really cool, it's funny how falafel and punk go hand in hand all over the world. Did you really have bingo night at your old location?
Oh yeah, definitely. The bar dabbled with hosting bingo on slow nights from time to time with mixed results. But then some motivated customers took it upon themselves to coordinate and advertise a monthly "Vegan Bingo Night," and it became quite successful.
What are your new and improved plans for your food truck?
A lot will be different when I'm operating a food cart instead of a bar kitchen, and I expect to face a whole new set of hard lessons. While there were many benefits to operating my business in tandem with Slabtown, I do look forward to the simplicity of operating completely autonomously. I'm getting those training wheels off and I'm excited and a little daunted by what all that will mean.
How can we help and support you during this transition?
I would love to hear from people! And when Falafel House reopens, come check it out!
Any last words?
Thanks MRR!